Common Grounds
---
Wednesday Edition | Why the Middle East doesn't fully support Ukraine
May 04, 2022
By Abraham A. van Kempen
Published May 4, 2022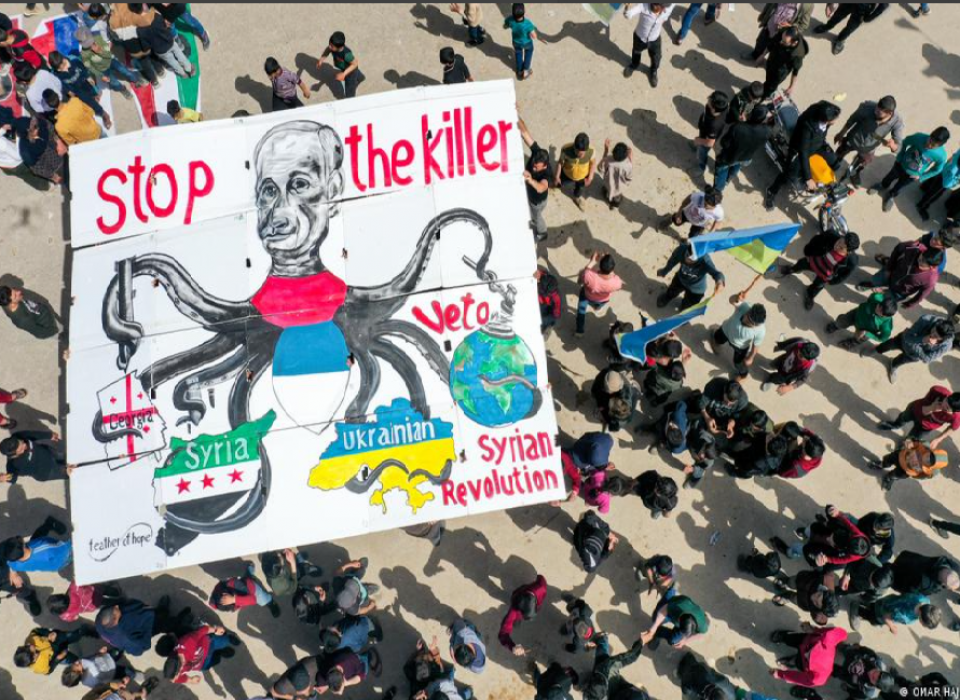 Source: Qantara.de
https://en.qantara.de/content/not-our-fight-why-the-middle-east-doesnt-fully-support-ukraine
By Cathrin Schaer
Published April 23, 2022
Middle Eastern countries are still on the fence when it comes to the Russian invasion of Ukraine. Their citizens point to the West's double standards surrounding conflict and refugees. Should Europe be worried, asks Cathrin Schaer?
"Not our fight"
At first, they were ready to go to Ukraine to join the international legion fighting there. But in the weeks following the Russian invasion, the three young Syrian men changed their minds.
"Why would we fight somebody else's war?" one of them explained last week as the trio sat around a cafe table in central Berlin. All three friends, all in their early 30s, are refugees and have been in Germany since 2015. They had discussed going to Ukraine to fight the Russians, who had ruthlessly bombed their own city, Aleppo.
But they decided against it. "We have our own problems," another of the men argued. "[Syrian dictator] Assad is still in power, the Russians still support him – and nobody cares." None of the men wanted to put their names to these comments because they were well aware what they were saying was controversial in Europe, where most countries are fully supportive of Ukraine.
Although not everybody feels this way and there have been demonstrations of Syrian solidarity for Ukraine, the group's attitude is far from uncommon in the Middle East, or even other parts of the world. Africa and India don't necessarily see this as their fight either...
Read more: Why the Middle East doesn't fully support Ukraine
♦♦♦
Source: Middle East Eye
https://www.middleeasteye.net/opinion/israel-broad-coalition-conflates-anti-zionism-antisemitism
By Amos Goldberg
Published April 28, 2022
Today is Israeli Holocaust Remembrance Day, which many outside Israel - Jews and non-Jews alike - tend to note. On this day, many mark the struggle against antisemitism as part of the terrible legacy of the Holocaust.
There is no doubt that antisemitism, and any other form of racism and bigotry, must be fought decisively, and that the critical struggle against these must be one of the clear lessons to be learned on this day.
However, one of the most disturbing phenomena of the last decade or two is the identification of anti-Zionism and even harsh criticism of Israel with antisemitism, as well as the reverse identification of "contemporary" antisemitism first and foremost with anti-Zionism and even criticism of Israel.
These identifications are serious because they are derived from alleged lessons of the Holocaust. And so it appears that any substantial criticism of Israel and Zionism is perceived in public opinion, and especially among national and international political and cultural institutions, as an ideological continuation of the Holocaust.
Thus the emancipatory struggle of the Palestinians for liberation and decolonisation is tagged as a struggle that is in fact a direct continuation of the Holocaust and Nazism.
The identification of criticism of Israel and anti-Zionism with antisemitism is unfounded if only because some of the harshest opponents of Zionism were Jews. In fact, from the moment Zionism appeared on the stage of history at the end of the 19th century, opposition to it was born within the Jewish world.
The Ultra-Orthodox opposed it, the Reform movement opposed it, Jewish liberals and communists, as well as the strong Jewish Socialist Bund movement in Eastern Europe, opposed it - often even sharply and blatantly. Today, the fierce opposition to Zionism within the Jewish world is relatively small, but the Jewish anti-Zionist legacy is persistent...
Read more: Anti-Zionism and antisemitism: How right and left conflate issues to deny Palestinian rights
♦♦♦
Source: The Washington Post
https://www.washingtonpost.com/opinions/2022/04/28/jerusalem-al-aqsa-media-coverage-israeli-violence-palestinians/
By Laura Albast and Cat Knarr
Published April 28, 2022
At the break of dawn on April 15, Israeli police attacked Palestinian worshipers at the holy site of Al-Aqsa mosque in Jerusalem. They used stun grenades, tear gas and rubber-coated steel bullets, wounding more than 150. Since then, Israeli forces have launched new incursions, detaining more than 300 Palestinians at the Al-Aqsa compound and blocking Palestinian Christians from entering the Church of the Holy Sepulchre. This carefully calculated violence comes as Palestinian Muslims enter the last days of Ramadan.
When looking at the footage of what happened, the dynamic is obvious: forces with gear and guns versus worshipers kneeling in prayer. However, Western media coverage routinely labels this situation as "complicated," portraying this state violence as "clashes" and "tensions" between two sides. Headlines in outlets such as the Associated Press, the New York Times, the Guardian, the Wall Street Journal, NBC News and others use language that fails to recognize the power imbalance between the Israeli military apparatus and the native Palestinian people.
This is a pattern we have seen over and over again in media coverage of Palestine. Palestinians are not killed; we simply die. When Israeli forces raid our neighborhoods in the middle of the night, bomb our children, demolish our homes, colonize our land and kill our people, we are somehow equal instigators. Media descriptions regularly imply a false symmetry between occupier and occupied, propping up anti-Palestinian and Islamophobic narratives that blame the Palestinian people for Israeli aggression...
Read more: Opinion | How media coverage whitewashes Israeli state violence against Palestinians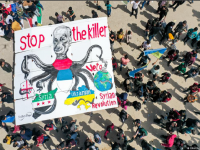 ABOUT THE AUTHOR
---

Webmaster
READ MORE
SHARE YOUR OPINION, POST A COMMENT
---
Fill in the field below to share your opinion and post your comment.