Common Grounds
---
'The Chameleon': U.S. Experts Shaken Over What This Iranian Scholar Just Said
Seyed Hossein Mousavian. He is adept at juggling stances.Credit: Chatham House / Wiki Commons
A commotion has erupted among Iran watchers in the United States following comments made recently by Seyed Hossein Mousavian, a visiting scholar at Princeton University's School of Public and International Affairs. Mousavian was interviewed for an Iranian documentary film about Qassem Soleimani, the Iranian Revolutionary Guards Corps general and commander of its Quds Force, who was assassinated two years ago by the CIA in an operation in which Israel was also involved.

Mousavian, who is considered to be an influential figure in the corridors of power in his country, spoke with a smile and a smirk of satisfaction about the threats directed against an American official, Brian Hook, following the Soleimani assassination, and about how Hook's wife couldn't sleep, cried and trembled, and suffered from anxiety as a result of the threats. Hook was an advisor to former U.S. Secretary of State Mike Pompeo and served as the Trump administration's special envoy for Iran.

Hook is well known to decision-makers in Jerusalem who served in the years 2017 to 2020, and to the heads of the security establishment. He visited Israel several times. He refused to discuss Mousavian's comments in the documentary.
In this video Hussein Mousavian at @Princeton brags that US Special Envoy Brian Hook's wife was left "shaking" from regime death threats against him after Soleimani's killingpic.twitter.com/IJ3llTgjKX

— Alireza Nader علیرضا نادر (@AlirezaNader) January 6, 2022
Mousavian is adept at juggling stances. He is considered a member of the pragmatic camp in Iran but is sparing in his criticism of the regime of the ayatollahs, and at the same time manages to enjoy the prestige of American academia. "He is a chameleon who knows his boundaries. He will try to keep everyone happy but at the end of the day, he is a propaganda agent of the Iranian regime," said a former senior Israeli intelligence officer who knows Mousavian well.
Mousavian was born in 1957 into a wealthy family of carpet makers from the town of Kashan. The family had close connections with a revolutionary movement with an Islamic orientation from which the Islamic Republican Party grew. It represented small traders and petite bourgeoisie and believed in economic liberalism alongside religious conservatism. In time, Mousavian became a member of the party. As an adult, he studied engineering at Sacramento State University of California and later returned to Iran, where he took a second degree at the University of Tehran. He studied for a Ph.D. in International Relations at Kent University in the United Kingdom, obtaining his doctorate in 2002.

Mousavian became part of the Iranian political and diplomatic apparatus and was close to the parliamentary speaker and later president of Iran, Akbar Hashemi Rafsanjani. Mousavian was editor-in-chief of the Tehran Times, an English-language regime daily, and in 1990, at the age of 33, he became Iran's ambassador to Germany, where he served for seven years. During this time, he was involved among other things in a prisoner exchange between Hezbollah and Israel, made with the mediation of BND, the German intelligence agency.
In 1992, two years into his term as ambassador, four regime opponents of Kurdish origin were eliminated at the Mykonos restaurant in Berlin in a well-planned operation conducted by the Iranian intelligence ministry. In 1997, a German court convicted three Lebanese citizens and an Iranian intelligence official of involvement in the murder and ruled that Supreme Leader Ali Khamenei, President Rafsanjani, Intelligence Minister Ali Fallahian, and Foreign Minister Ali Akbar Velayati had authorized the assassination. Incidentally, this is the same group that approved the attacks on the Israeli embassy in Buenos Aires in 1992, and on the AMIA Jewish Community Center in Argentina two years later.
Germany expelled four Iranian diplomats and asked Mousavian to leave. Later, when an international arrest warrant was issued against Fallahian, Mousavian called it "an insult to the Iranian people" and made veiled and not so veiled threats, that if European countries continued to treat Iran in the same way that the United States and Israel do, Iran would make them pay. With such a record, it is no wonder that Mousavian became a darling of the Iranian establishment. At the end of the 1990s, he became close to President Mohammad Khatami (Rafsanjani's successor) and served in several roles in his government, including at the National Security Council. From 2003 to 2005, he served as a senior negotiator for the regime, in negotiations with the powers over cutting back Iran's nuclear program in exchange for sanctions relief.

Brian Hook is seen with Director general of the International Atomic Energy Agency Rafael Grossi, in 2020.Credit: IAEA

Despite his shady past, in 2009, Princeton University did not hesitate to appoint Mousavian senior lecturer at Woodrow Wilson School for Public and International Affairs. The title gave Mousavian great prestige and senior academic status at research institutes in the United States and Europe and he became a sought-after lecturer and columnist at some of the most important newspapers in the world, including The New York Times. Since then, he has walked the fine line between Iran and the West and has benefited from the best of both worlds.

Mousavian has frequently raised eyebrows and been the subject of criticism, but he may have crossed a line this time. Norman Roule, a former senior CIA advisor who was the agency's intelligence manager for Iran called Mousavian's comments "despicable." Roule is currently a senior fellow at United Against Nuclear Iran (UANI), a nongovernmental organization that is home to many former senior officials – senators, congressmen, diplomats, senior administration officials, and senior intelligence veterans from the United States and Western Europe – including Tamir Pardo, the former head of the Mossad.
UANI chairman and former United States Senator Joe Lieberman condemned Mousavian's statements and called for Princeton to dismiss him immediately. Noting the 1992 assassinations in Germany, Lieberman said Mousavian's employment constituted a stain on the university's reputation and credibility. "At a time in which the U.S. intelligence community assess that the Islamic Republic is working to develop networks for terrorist attacks on the U.S. homeland, there should be no room at Princeton or any other U.S. institution for Ambassador Mousavian," Lieberman said.

Lieberman also called on donors to the Princeton School of Public and International Affairs, the Rockefeller Foundation, the Carnegie Foundation, the MacArthur Foundation and others to condemn Mousavian. "We can draw one conclusion. Ambassador Mousavian is not fit to be connected with Princeton or any other party outside of Iran," he said. Mousavian and Princeton University declined to respond to requests for comment from Haaretz.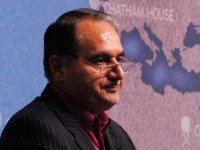 ABOUT THE AUTHOR
---

Webmaster
READ MORE
SHARE YOUR OPINION, POST A COMMENT
---
Fill in the field below to share your opinion and post your comment.