Common Grounds
---
Netanyahu's two Israels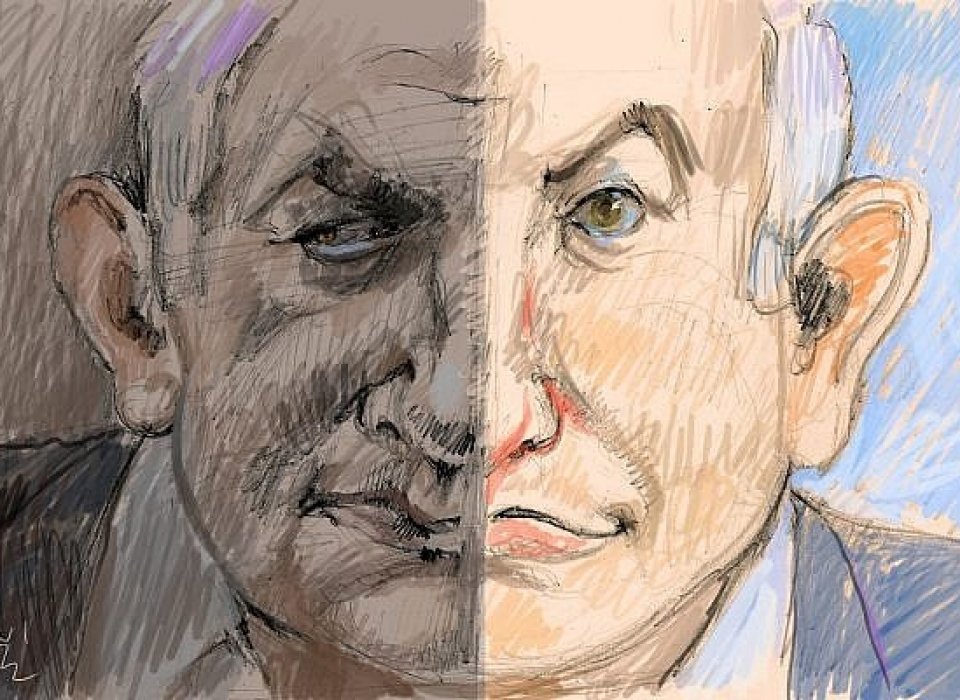 Illustration by Avi Katz.
Yesterday, I received my COVID-19 vaccination, along with other over-60s in Jerusalem. The experience was stunning in its normalcy. There were no stressful lines, no stress at all. Polite and efficient young people led us through the process. There seemed to be more healthcare workers than patients. My wife Sarah and I showed up early: As Sarah put it, this is Israel, things are flexible. And they were. Our names were checked off a list and within minutes we were done, ahead of our allotted appointment. We didn't even have to pay a fee.
It was one of those Israeli moments of quiet pride, of knowing I made the right decision when, four decades ago, I'd entrusted the state of Israel with my future and the future of my family. This was the Israel of the Entebbe rescue and Operation Solomon, the Israel that surprises the world and most of all itself with its capacity for greatness.

This is a country that takes care of its citizens in often astonishing ways. The assistance provided to the elderly, to those with physical disabilities, is among the best in the world. Our universities routinely appear on the lists of the world's top schools, and tuition is minimal. One reason that Israel scores so highly on the UN's "Happiness Index" is that Israelis know they live in a country that not only demands unparalleled sacrifices from its citizens, but also earns that right.
And now Israel is on its way to becoming the first fully vaccinated country, the first to defeat COVID-19. If all goes well, we may be an immune society by Seder night. Once again we have proven that, when we focus on a mission of national importance, seemingly nothing can stop us.
But there is another Israel, an increasingly dysfunctional nation that has lost the most basic trust in its leadership, whose democratic institutions are under sustained attack and that is now, in the midst of a pandemic and the worst economic crisis in decades, being dragged into an inexplicable fourth election in less than two years, encouraging cynicism and despair, especially among young Israelis. A country whose party of government, the Likud, once a cornerstone of Israeli democracy, with talented politicians motivated by a spirit of public service, is now dominated by demagogues and incompetents, the worst face of Israel.
This alternative Israel is among the few countries on its way to a third Covid lockdown, caused by a farcically divided "unity government" whose decisions are motivated not by public considerations but by petty politics. A government that indulged the ultra-Orthodox community in its mass disobedience against health regulations and imposed sweeping lockdowns across the society rather than focusing on ultra-Orthodox towns where the outbreak was most severe, a policy for which many Israelis have paid with their livelihoods. An irresponsible government that sought to flaunt its diplomatic achievements by allowing tens of thousands of Israelis to travel to Dubai and bring back the next wave of Corona.
Both Israels are embodied by Prime Minister Netanyahu. He is our most talented leader and our most destructive politician, bringing unprecedented normalization agreements with four Arab countries and scorched earth in our governance. His energizing leadership has brought us the COVID-19 vaccines; his corrupt politics have brought us to the edge of Covid ruin. He is architect and metaphor for our best and worst impulses, for our determination and our dissipation.
In the past, when his behavior was merely arrogant, with a vague whiff of corruption, the tradeoff seemed worth it. But in the last few years he has violated our most sacred norms, erased all moral restraint from our politics. When in 1984 the far-right leader Meir Kahane spoke for the first time in the Knesset, the Likud Prime Minister, Yitzhak Shamir, walked out in protest; Netanyahu has offered Kahane's ideological progeny a place in his coalition.
Israeli politics were never, as they say here, "vegetarian." But Netanyahu has seemingly lied to everyone about everything, so publicly and shamelessly that his most solemn promises are regarded across the political spectrum as the punchline of a joke. It is no coincidence that the politicians seeking to bring him down are mostly from the right and include his former closest allies. The educational damage of Netanyahu's political cynicism on a new generation of Israelis is incalculable.
But arguably Netanyahu's greatest sin against Israel is to pry open the multiple fault lines running through our society, setting tribe against tribe. Though there is hardly any leftwing left in Israel, he has branded his opponents as "leftists," while encouraging those closest to him, especially his son, to incite against the "traitors." He has portrayed Arab citizens exercising their right to vote as a threat against the state ("Arabs streaming to the polling stations"). He accused centrist politicians seeking an alliance with Arab politicians of collusion with terrorists – and then courted Ra'am, the Islamist party.
The threat of self-destruction

Israel is, on the one hand, a strong society, perhaps the strongest in the West, with a patriotic and highly motivated citizenry, powerful bonds of family and friendship, a vigorous national ethos for which many Israelis risk their lives. And yet we are also a fragile society, divided along multiple social and ideological fissures.
I moved to Israel in the summer of 1982, at the beginning of the first Lebanon War. That was the first and only war that not only failed to bring us together but tore us apart. Israelis shouted at each other on the streets: Traitor! Warmonger! Reservist soldiers would end their tour of duty and then join the protests outside the prime minister's house in Jerusalem. My Israeli trauma is of a nation that could not unite even as its soldiers were fighting at the front. I learned never to take our national cohesion for granted.
We are a society formed by immigrants from a hundred exiles, with as many conflicting ideas about the meaning of why we are here as how to manage our daunting challenges. We are governed by a coalition system because that is the only way to accommodate the radically disparate ideas about what this country should be. Seven decades after our founding, nothing is settled here, from our borders to our identity. Have we returned to normalize Jewish fate, to be a nation among nations, as Zionism promised, or to fulfill the biblical dream of "a kingdom of priests and a holy nation?" What are the boundaries between "Jewish state" and "democratic state?" How to absorb into mainstream Israel the two societies – the ultra-Orthodox and the Arabs – who exist on its periphery?
The great Jewish fear that we carry from ancient times is the threat of self-destruction. We are a people that has known transcending moments of solidarity and bitter moments of fratricide. We stood together before Mount Sinai, in the words of the biblical commentator Rashi, "as one person with one heart." And as the Romans tightened their siege against Jerusalem, we burned each other's granaries and assassinated rival leaders. In the weeks before the Six Day War, Jews around the world united "as one person with one heart," and shared the emotional trajectory that led us from fear to relief to euphoria to awe, standing together with the paratroopers at the Wall. And on November 4, 1995, a religious Jew, acting in the name of the land of Israel, assassinated the man who had commanded the IDF during the Six-Day War.
To govern Israel requires the wise management of our irreconcilable differences, a healer rather than an inciter. Netanyahu has become a threat to our ability to be a nation united in its diversity.
Comparisons between Netanyahu and Donald Trump are tempting. Both men have trampled on sacred norms, pried open their societies' fault lines, incited group against group, questioned the legitimacy of entire categories of citizens.
Yet at his best, Netanyahu was an authentic representative of the Israeli ethos: grieving brother of a national hero, articulate defender of Israel in the international arena, the first leader to warn against a nuclear Iran, courageously challenging the entire international community. A well-read, thoughtful, even brilliant man, in some ways the antithesis of Trump.
Netanyahu's decline is an Israeli tragedy. As he faces imminent trial on three charges of corruption, I truly hope he will prove his innocence, for his sake but also for ours. We have already sent one prime minister to prison, and the disgrace of sending another is unbearable. Even if he is found guilty, I hope for an outcome that will avert that stain on the good name of Israel.
And so, Mr. Prime Minister: Thank you for the Covid vaccination, and for all the other remarkable achievements for which you have earned our gratitude. Now, in the name of all that is sacred to this people: Go.
Yossi Klein Halevi is a senior fellow at the Shalom Hartman Institute, where he is co-director, together Imam Abdullah Antepli of Duke University and Maital Friedman, of the Muslim Leadership Initiative (MLI), and a member of the Institute's iEngage Project. His latest book, Letters to My Palestinian Neighbor, is a New York Times bestseller. His previous book, Like Dreamers, was named the 2013 National Jewish Book Council Book of the Year.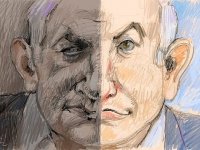 ABOUT THE AUTHOR
---

Webmaster
READ MORE
SHARE YOUR OPINION, POST A COMMENT
---
Fill in the field below to share your opinion and post your comment.