The Great Debate
---
Settlers, Palestinians come together to seek EU-model end to conflict
May 30, 2016
BY TIMES OF ISRAEL STAFF May 28, 2016, 10:21 am
Unlikely initiative, supported by leading figures in settler movement, envisions 2 states, but one homeland — where 'anyone can live anywhere they want'
A group of Israelis and Palestinians has teamed up in a movement calling for a European-style confederation between Israel and a future state of Palestine that would allow citizens from both sides of the conflict to live in either country but retain their original nationality.
The "Two States, One Homeland" movement — the Israeli side of which is mostly comprised of settlers — is the culmination of four years of low-profile meetings and discussions between activists on both sides. It was reported upon by Channel 2 news on Friday night.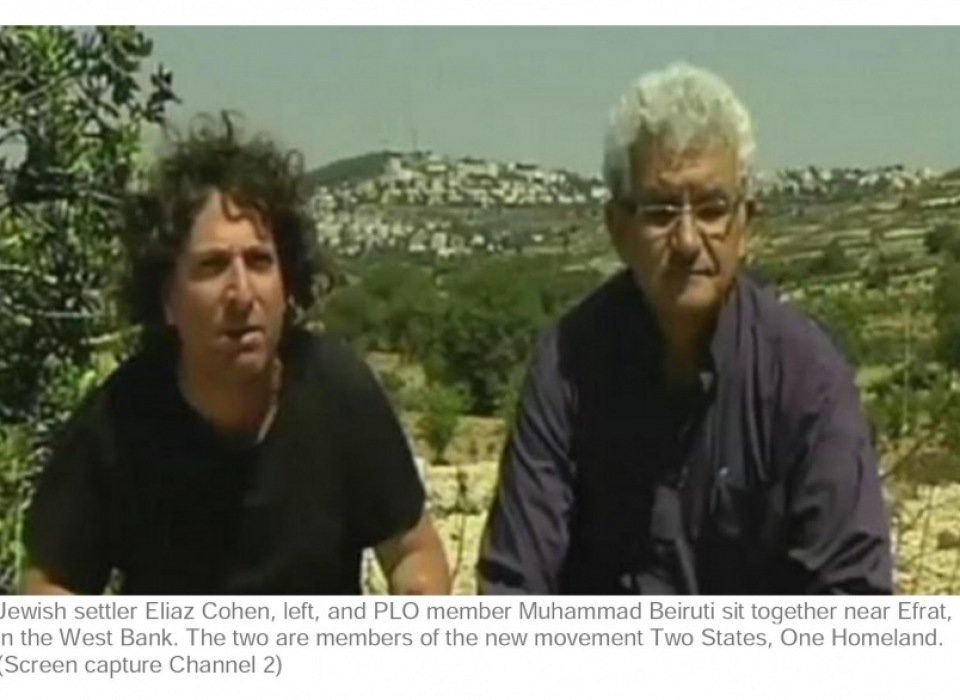 The movement rejects the idea of separating the two peoples, claiming that reality has proven that such an effort, started 23 years ago with the Oslo Accords, has failed.
One Israeli activist in the movement, journalist Meron Rapoport, said its final goal was to ensure that Jews could live "everywhere they want in the Land of Israel, and Palestinians can live anywhere they want in the land they call Palestine."
Most settlements, in such a scenario, would not be evacuated by force.
Rapoport said he dreams of "two independent, sovereign states, belonging to a super-structure, a confederation, a union — the label is less important — that have strong bilateral relations, such as open borders, shared security forces, maybe a shared court of human rights."
Eliaz Cohen, a kippah-wearing settler from Kfar Etzion who is part of the movement, acknowledged that it had taken him time to stop fearing a Palestinian state, noting that part of the original motivation for the construction of the settlements was to thwart such a state.
"I grew up on this fear, I grew up on the motivation of how to prevent this thing from being formed," he said.
Muhammad Beiruti from Ramallah told Channel 2 that as a member of the PLO he would accept a two-state solution based on the pre-1967 lines, but argued that the security barrier that divides much of Israel and the West Bank was useless from a defense point of view, and only served to harm the landscape.
"The fence is not the problem. The Palestinians pass under it, or above it. It doesn't guarantee security, only does something ugly. The landscape is beautiful and the fence desecrates it," Beiruti told Channel 2.
Cohen echoed Beiruti: "What we mainly see here is the degree to which everything is mixed together. The fence is a blot on the landscape. It won't create good neighbors on either side. And if there are shooting attacks, it cannot stop them."
Asked by Channel 2 about Efrat, a community of 10,000 Jews south of Jerusalem located inside the territory Palestinians claim for a future state, Beiruti said: "Israelis who want to live in Palestine, in the Palestinian state, they can live anywhere they want — but these will be Arab villages, under complete Arab sovereignty and control, and they will be populated not only by Jews — whoever wants to live here, will be able to. Every Israeli that wants to live in Ramallah and Bethlehem — let them.
"Efrat was established on the land of the village of El Hader. I'm not saying we will expel 10,000 people — let them stay. But they will cease to be settlers. They will be Israeli citizens living in the Palestinian state, or holders of Palestinian citizenship, that's also OK."
Efrat Chief Rabbi Shlomo Riskin, an influential figure in the community, has given his blessing to the movement.
"The sheer idea of two states and one homeland can be a breakthrough. You have a right, and we have a right — we are both heirs of [biblical patriarch] Abraham, our father," Riskin said.
According to Channel 2, the rabbi's grandson, Eden Riskin, introduced him to the ideas of the movement.
"I felt strongly connected to this idea, that peace can come, of all places, from the settlers. The settlers are no less for peace than other people," Eden Riskin said. He added that a current right-wing initiative to enforce Israeli civil law in the West Bank "would effectively mean a bi-national state, and a bi-national state does not express the Jewish identity of the State of Israel."
"Living in Palestine doesn't mean I would not celebrate Israel's Independence Day," the younger Riskin said.
Meyer Yoshua, a settler and member of the movement, said the current situation was "intolerable" and could not continue.
"We view our neighbors as enemies, as suspicious, and we don't consider them to be our partners in life," he said. "Their lives are not developing at the rate ours are, even the opposite — in a way my very presence here stifles their development.
Yoshua said he was willing to enter a process to establish the federation the movement envisions, despite the risks and fear it involves.
"When you go in a new direction there's a risk, but the current situation is also risky […] to be part of a process that means expanding the heart, not just expanding to more territory, and fixing society and achieving better relations — this gives meaning to my life here now," he said.
Beiruti, who was a former governor of Jenin, said he would be happy to see new Palestinian homes built east of Ashkelon, where his family's village lay in ruins.
The white-haired, softly-spoken man was born in Jordan after the establishment of Israel in 1948, but later moved to the West Bank. After helping establish terror cells and traveling as far as Syria, Lebanon and Tunis, he served a decade in an Israeli prison. Beiruti became Jenin governor following the Oslo Accords.
"Sgula can stay on the lands of Soumeil," he said, referring to a small Jewish community built on the ruins of his village. "We wouldn't move Sgula east or west. But we want to correct, to fix old misdeeds without creating new ones."
According to the Two States, One Homeland initiative, the percentage of Israeli citizens living in Palestine would be determined in line with the percentage of Palestinian citizens who would remain in Israel.
The movement's activists believe the attempt to separate Israelis from Palestinians has failed.
"Twenty-three years ago the leaders of both nations, not random people, said 'let's go to separation. Us here, them there, good fences make good neighbors.' All that talk, and it didn't happen. Even the unilateral disengagement [from Gaza in 2005] didn't bring quiet — not for us, not for them," Rapoport said.
While some issues — like the fate of Jerusalem or the Palestinians' insistence on the right of return — are not addressed by the initiative at this stage, Cohen scolded his interviewer for raising the specter of Arab pogroms against Jews from years predating the establishment of Israel.
"Don't try to paint me as delusional. This fear is precisely what we need to be freed from," Cohen said.
"[Prime Minister Benjamin] Netanyahu, who allows fear to rule him, is delusional; [Jewish Home leader] Naftali Bennett, who describes the Palestinians, a whole nation, as 'shrapnel stuck in the buttock' — he is delusional."
"We are killing one another, we are killing ourselves, so much that we can no longer imagine a different reality," said Cohen, as Beiruti nodded his head in agreement next to him.
"And then someone gets up and says — it's delusional this reality you live in, Israelis and Palestinians. That's what is delusional."
Source: The Times of Israel, http://www.timesofisrael.com/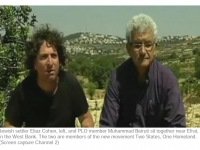 ABOUT THE AUTHOR
---

Webmaster
READ MORE
SHARE YOUR OPINION, POST A COMMENT
---
Fill in the field below to share your opinion and post your comment.