Common Grounds
---
A new form of politics – no factions
August 02, 2017
Source: JEWS FOR JUSTICE FOR PALESTINIANS
Two articles, 1) Daoud Kuttab, Al Monitor; 2) Dr Inas Abbad, MEE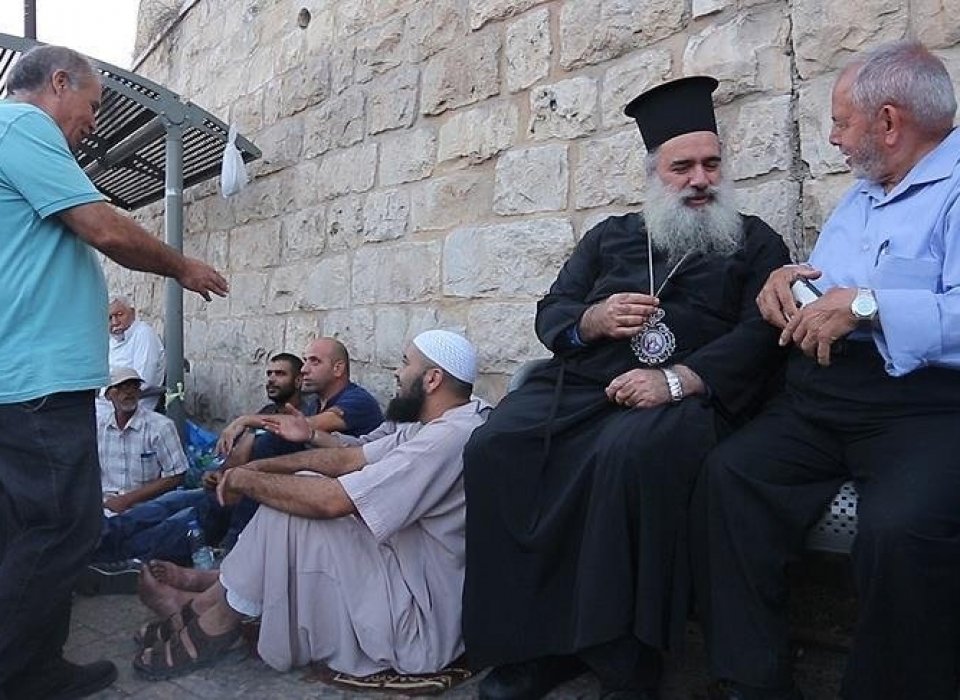 Twitter photo, Christians and Muslims discover their common cause in Jerusalem, outside the Haram al-Sharif/Temple Mount complex.
By Daoud Kuttab, Al Monitor, Palestine Pulse
Published July 25, 2017
The Palestinians of Jerusalem collaborated to keep the protests against Israel's restrictions at Al-Aqsa Mosque ongoing.
No one expected that the ongoing protests in Jerusalem over the Israeli restrictions placed on the entry to Al-Aqsa Mosque, Islam's third-holiest site, would become the nucleus of a new movement for Jerusalemites.
Palestinian women praying outside the Lion's Gate, Al Aqsa, July 25th. Their bags contain food for the men. Photo by Oded Balilty/AP
Like most popular revolts, it began with a community acting in a defiant way because they could no longer take the humiliation endured on a day-to-day basis. It was a work in progress that quickly found a solution to a pressing problem, which was then implemented.
Mohammed Daraghmeh, a media trainer at Birzeit University and a prominent analyst of Palestinian affairs, wrote in a July 22 post on his Facebook page that what was happening in Jerusalem bore all the hallmarks of a new intifada:
"It was a popular movement in that entire families participated in the daily prayers outside the restricted mosque's gates. People figured out how to deal with highly political issues as well as with basic mundane but necessary issues like food and water, and at the same time were keen on creating rotating committees that took care of the cleaning afterward."

East Jerusalem's 350,000 residents have for years been leaderless, as Israel prevents the Palestinian leadership in Ramallah from having any serious engagement with them. Since the 1993 Oslo Accord, which postponed dealing with Jerusalem, Israel has worked to isolate Jerusalemites from their national leadership. The Palestinian government is unable to visit or to hold meetings in Jerusalem and, most importantly, the Palestinian government is banned from funding any activity in Jerusalem. For instance, support by the Palestinian government for a children's puppet festival was stopped in June 2013. At the time, the Palestinian National Theatre was closed on emergency orders from the Israeli police because of an unauthorized relationship with the Palestinian Authority.
This common type of photo – police arrest a Palestinian boy during clashes in Shuafat, the Jerusalem refugee camp – has defined the image of young Palestinians as trouble-makers only ever a stone's throw away from arrest Photo by AFP
Having been turned into political orphans, residents of East Jerusalem feel they must rely on themselves and not expect a saviour to come to their rescue from the outside.
In the current conflict on access to Al-Aqsa Mosque, the leadership formed to deal with this issue had to come from the religious community. The Islamic Supreme Committee, the office of the mufti of Jerusalem and other religious organizations, along with some respected Jerusalem leaders, were in the forefront issuing statements and providing the moral and philosophical leadership in this crisis.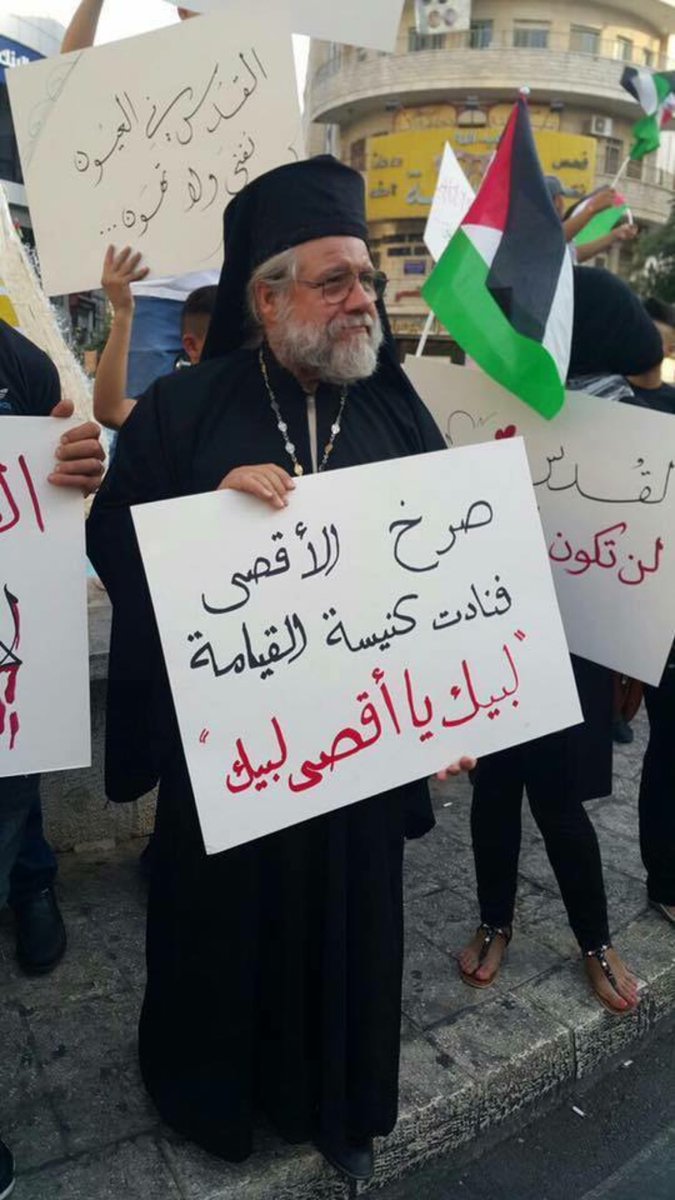 "Al-Aqsa mosque screamed for help, so the church of the Holy Sepulchre responded 'we're here for you o Aqsa, we're here for you'"
Photo and caption from @Muslim Matters, Twitter
While the local Islamic leaders made their positions known during the daily protests, the support that was required was provided by young people and local civil society organizations. The nature of the protests meant that as long as the metal detectors were in place outside Al-Aqsa Mosque, all prayers would be carried out as close to the mosque as the faithful were allowed. The five prayers a day became the focus of organized activities, media attention and public support.
Khaleel Assali, a local journalist and editor of the website Akhbar el-Balad, told Al-Monitor that what transpired July 21 in the Old City of Jerusalem and outside the city brought tears to his eyes.
"I saw shopkeepers who normally close their shops on Fridays open up their shops and provide youth activists with unlimited supplies of water and other basic essentials. In every neighbourhood, local support committees were formed whose job was to organize and provide protesters with water, food and prayer mats and also to clean up the streets."
Handing out candy to worshippers outside Al-Aqsa compound Thursday, July 27, 2017. Photo by Olivier Fitoussi
According to Assali, Israel's municipal workers were not present on the ground and the local activists ensured that the tens of thousands who came to pray throughout the city would be able to pray on clean streets.
The clockwork-like activities were prominent in the area outside Bab al-Majles. Al-Monitor visited the area July 20 and noticed the way local youths organized themselves and provided the support needed to keep a prolonged protest movement alive. Plastic chairs were provided for the protesters and visitors to sit on between prayers.
Bab al-Majles once had a bustling commercial centre. Police installed checkpoints at either end and it is now deserted. Photo by B'Tselem
In Bab al-Majles, a small African community — which came to Jerusalem in the 19th century from Chad, Sudan, Niger and Senegal — provided the entire support system for the protesters; cold water and coffee was served regularly. When Al-Monitor was there, freshly picked and peeled cactus fruit was offered. With every round of drink or fruit, a member of the community with a plastic bag went around to pick up empty cups and other litter to keep the area clean.
Mahdi Abdul Hadi, [photo below] the founder and director of the Palestinian Academic Society for the Study of International Affairs, is one of the few non-religious leaders who has been invited by the various Islamic committees to attend ad-hoc meetings during which protest-related decisions and relevant statements are made.
Abdul Hadi's presence and his experience helped in drafting statements and giving political context and direction to the religious leaders. Abdul Hadi, who has excellent relations with the leadership in Ramallah and Amman, Jordan, quickly attracted media attention when he joined the protesters outside Lion's Gate July 20.
In an impromptu press conference July 20, Abdul Hadi addressed the political and social aspects of the protests. In regard to the role of local leaders, the youth and civil society, Abdul Hadi praised the local initiative that was born in Jerusalem on July 14 when Israelis closed Al-Aqsa Mosque to worshippers.
"Despite 50 years of living as political orphans, our people are no longer looking to others to save them but have decided that they must do things themselves."
As the protests might be slowing down or even ending now that the metal detectors have been removed — as part of a deal between Israel and Jordan reached July 25 — the new leadership that has been formed and the spirit of self-reliance that was born in the past days will be around for years to come and will certainly be the foundation of a local leadership in which Jerusalem is in urgent need.
We have found a turning point in our struggle: it's time to let go of the factionalism that has divided our movement and replicate the unity we have had at Al-Aqsa
Palestinian Christians join protesters outside Al-Aqsa. Photo from Twitter/@A_Ozkok
By Dr Inas Abbad, MEE
Published July 28/ 29 2017
JERUSALEM – It's been two weeks since three young men from Umm Al-Fahm fired their guns inside the Al-Aqsa compound, killing two police officers, and since, consequently, the mosque was closed and prayers were prevented.
Soon after the attack, Palestinian President Mahmoud Abbas denounced the attack and stated his "rejection of any violent incidents from any side, especially in places of worship".
Now is the moment to win back our rights, regardless of the positions of our leaders, who have repeatedly let us down
His comments provoked anger among many Palestinians who believe he should not have condemned what happened, especially in light of the daily killing of Jerusalemites by Israeli soldiers and security forces.
Some even worried that Abbas' comments gave Israel a green light to kill and abuse Palestinians and undertake humiliating measures against them and their sanctities.
Given the abuse it practises against Jerusalemites, its repeated intrusions into the Al-Aqsa Mosque and the daily provocation of worshippers by the armed police inside the compound, couldn't Abbas have blamed Israel for what happened?
Israeli security forces stand by as Palestinian Muslim worshippers pray outside Lions' Gate, a main entrance to the Al-Aqsa mosque compound in Jerusalem's Old City, on 24 July 2017. Photo by AFP
Is there any place of worship, anywhere in the world that allows heavily armed soldiers to roam freely and provoke the feelings of worshippers like this?
This whirlwind of events have driven us in Jerusalem to rethink and revive our struggle as Palestinians. Now is the moment to win back our rights, regardless of the positions of our leaders, who have repeatedly let us down.
With the latest incidents at Al-Aqsa, we have found an important turning point in our struggle as one people, away from the factionalism that has divided our movement.
Continuing to stand
The on-going prayers, protests and peaceful non-violent sit-ins at the gates of the Haram al-Sharif (the Al-Aqsa compound) were another turning point for the Palestinian people.
From the very first day that Al-Aqsa was closed and prayers were halted, we Jerusalemites began our actions. We continued our sit-in as worshippers and soldiers clashed, leading to the deaths of seven people, many of whom were university students who did not belong to any faction or any party. What united them was their right to this land and the freedom to enter and pray in the Al-Aqsa mosque.
Israeli security forces detain a Palestinian woman during a demonstration outside the Lions Gate on 17 July 2017. Photo by AFP
Was the aim to get us used to being searched just as we are at checkpoints, hospitals, shopping centres, national insurance offices and post offices – and now at the Al-Aqsa mosque?

It is the first time in nearly 50 years that the Al-Aqsa mosque was closed to worshippers who were barred from performing their prayers. We appealed to Arabs, Muslims and the wider international community to take a firm position to protect Al-Aqsa and prevent an escalation. But Israel continued to apply stricter measures, all in violation of the status quo agreement.
The same night they occupied and closed Al-Aqsa, Israeli military vehicles entered sometime between 1 and 3am, in the absence of Al-Aqsa's guardians. No one knows what manuscripts or documents they took from the libraries, or what they planted in it? This was followed by the installation of electronic gates at the entrances to Al-Aqsa on 17 July.
During that phase, Israel systematically tried to create divisions between Palestinian citizens of Israel and Palestinians in the West Bank, Gaza and beyond through erroneous and provocative statements on social media, suggesting that the electronic gates were put in place as a result of an arrangement with Palestinian or Arab parties or countries.
A Palestinian woman holds up the Koran and chants slogans outside the Lion's Gate on 16 July 2017. Photo by AFP
Was forcing worshippers to enter Al-Aqsa through these gates the beginning of a temporal and spatial division of the Haram? Or was the aim to get us used to being searched just as we are at checkpoints, hospitals, shopping centres, national insurance offices and post offices – and now at the Al-Aqsa mosque?
We will continue to stand at the gates of Al-Aqsa from fajr (dawn) prayer until dhuhr(afternoon) prayer. We will stand as the funeral procession for Abu Wajdi – a local man who died of natural causes – is stopped at the electronic gates at the Haram. It would not be surprising if the guards stopped the deceased for a thorough search.
We will stand at the gates of Al-Aqsa as we stand at the entrances to detention centres to visit our families. Take off your shoes, take off your belt, take off your hijab, they tell us before we see our relatives, before we go to pray.
They want us to give up going to the Al-Aqsa Mosque. Are these the final stages of the conspiracy against Al-Aqsa?
A new model for resistance
Perhaps the experience of the sit-in at the gates of Jerusalem and the degree of solidarity shown during the two weeks of standing outside the gates of Al-Aqsa and sitting in the roads of Jerusalem nearby are an indicator of the unity of the Palestinian public.
The Palestinian people do not need an interim government or a government of any kind. Jerusalemites came together to protect Al-Aqsa without the need for external support.
Meals, drinks and water reached all those who were stationed at the gates of the Haram. No one knows who distributed them, nor how.
The people of Jerusalem did not need emergency meetings of the Legislative Council or the Council of Ministers to study the situation and to come up with recommendations and develop a procedural plan to resolve the problem. The street has gone beyond all existing leaders and raised its voice.
In the street, in front of the gates and during Friday prayers, I stood to pray. When I finished praying, I found rows of worshippers, men and women, side-by-side. There were several Christians among the worshippers whose photos circulated on social media.
Jerusalem's mission to defend Al-Aqsa did not distinguish between Muslims and Christians, nor between religious and atheist. It did not distinguish between one faction and another. We did not hear, in the chants of worshippers, any statement referring to any faction. There were no calls for Hamas, nor for Fatah. We stood united in defence of Jerusalem.
If we win this conflict over Al-Aqsa and manage to shed the fear that Israel has imposed on use for all these years, how can we use this new model of Palestinian struggle more widely and achieve other victories against the occupation?
Dr Inas Abad is a political science researcher and lecturer and a political activist from East Jerusalem. Her brother, who has been held in an Israeli prison for the past 16 years, is one of the leaders of the hunger strike.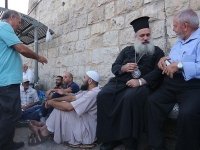 ABOUT THE AUTHOR
---

Webmaster
READ MORE
SHARE YOUR OPINION, POST A COMMENT
---
Fill in the field below to share your opinion and post your comment.