The Great Debate
---
An urgent appeal from Jewish Voice for Peace
March 07, 2016
Jewish Voice for Peace is a national membership organization inspired by Jewish tradition to work for the freedom, equality, and dignity of all the people of Israel and Palestine. Become a JVP Member today.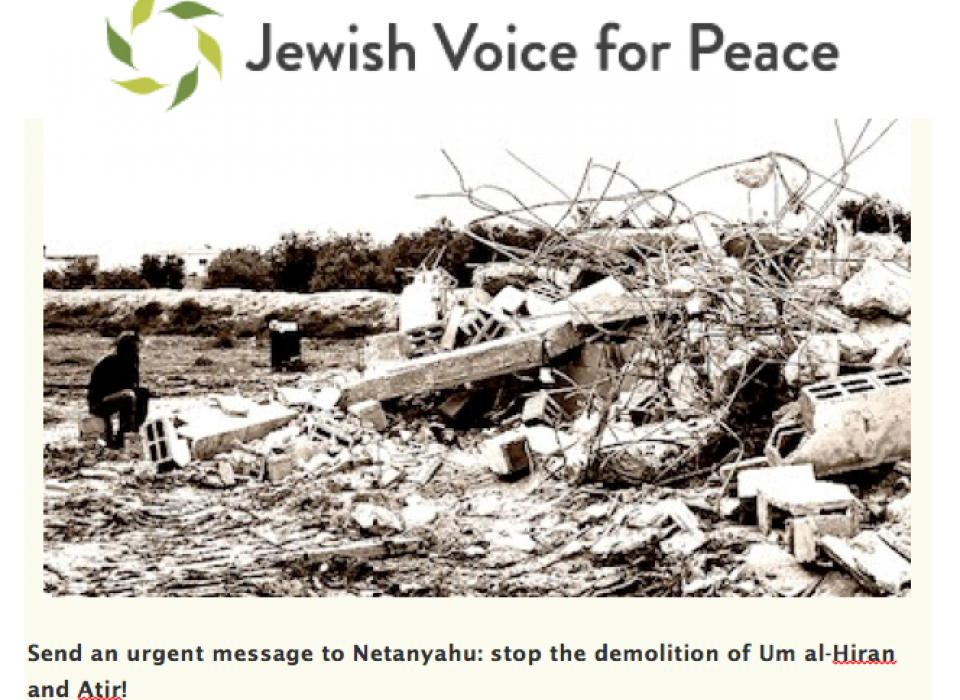 14 February 2016
Two villages are at immediate risk of being destroyed, and we need your help. Can you send an urgent message to Netanyahu?
Send an urgent message to Netanyahu: stop the demolition of Um al-Hiran and Atir!
Last week we received an urgent request from The Jewish Coalition for the Bedouin of Um al-Hiran and Atir, asking for our help. Here's why: two villages are at immediate risk of being destroyed.
The Israeli Supreme Court has ruled that the expulsions in Um al-Hiran and Atir should go ahead. But Prime Minister Netanyahu has the power to stop it, and if we show him the world is watching, he just might.
The coalition turned to us because they know that our community steps up when asked to speak out on grave injustices like this one.
Tell Benjamin Netanyahu — don't build Jewish communities on the rubble of Bedouin communities.
The New York Times and other mainstream media outlets hardly cover this story, but it's happening, and it's happening now. Across Israel, non-Jewish people are being forced out of their homes to make way for new Jewish settlements.
Houses are demolished and communities ruined, so that new Jewish homes can be built — on the rubble of houses where non-Jewish families lived for decades.
I know what you're going to say — why would we think we could have any influence over the Netanyahu government, probably the most right-wing and racist in Israeli history?
But when we raise an international outcry, they have no choice but to pay attention. Over the summer, we wrote to you about the village of Susiya, which is facing demolition by the Israeli military. Thousands of you raised the alarm, and as part of a coalition of many organizations, we stopped those demolitions — at least for now, as the villagers fight on.
We need to do the same today — act now to stop land theft in the Negev.
What the residents of these villages want is to live with dignity, in peace with their neighbors.
These communities were already forced off their land once in 1956, and now the Israeli government wants to do the same again. Why? Because in Israel, Jewish citizens have rights and privileges that non-Jewish citizens are denied, for no reason beyond their ethnicity.
Take a stand — let Netanyahu know the world is watching. The expulsions in um al-Hiran and Atir must be stopped.
Expulsion and land theft is endemic across Israel, the West Bank and East Jerusalem. Whether it's the demolition of homes in Susiya, Airbnb vacation rentals on stolen land in Palestine, or the expulsion of Bedouin communities from Um al-Hiran, we're committed to fighting back.
Thank you for fighting back with us.
Rebecca
Rebecca Vilkomerson

Executive Director
Source: Jews for Justice for Palestinians http://jfjfp.com/?p=80454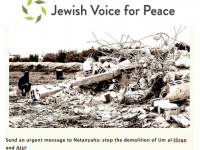 ABOUT THE AUTHOR
---

Webmaster
READ MORE
SHARE YOUR OPINION, POST A COMMENT
---
Fill in the field below to share your opinion and post your comment.