The Great Debate
---
'We need a Palestinian state,' new EU foreign affairs chief says in Gaza
November 28, 2014
Source: Times of Israel
Federica Mogherini says world can't afford a fourth Gaza war, and entire EU sees Palestinian statehood as 'ultimate goal'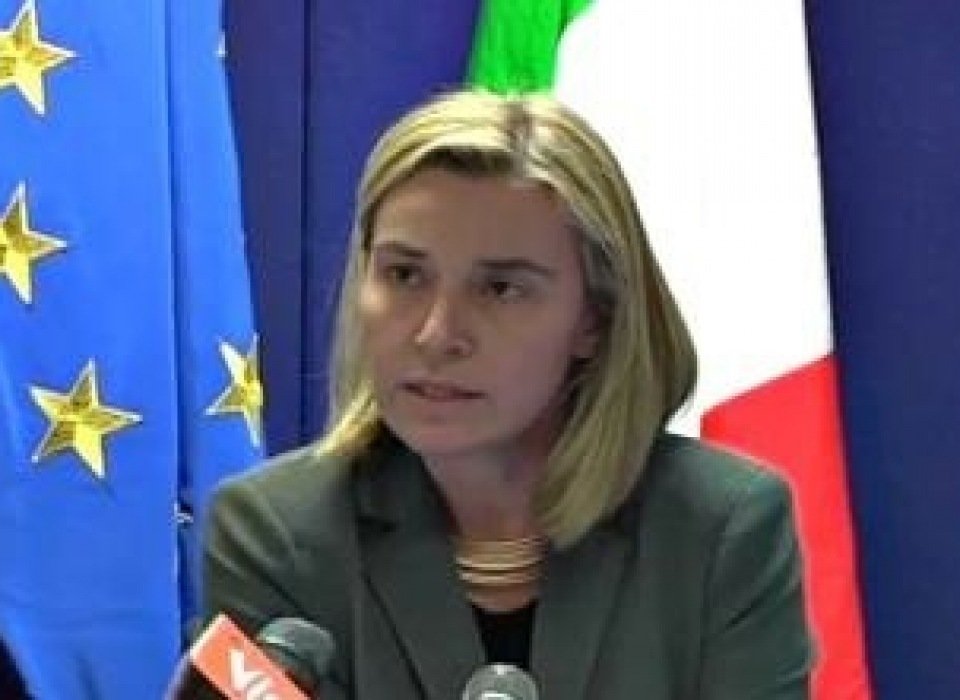 The European Union's new foreign affairs chief Federica Mogherini speaks as she visits the UN-run Bahrain boys school where displaced Palestinian families found refuge on November 8, 2014 in Gaza City. (Photo credit: AFP PHOTO/MAHMUD HAMS)
The European Union's new foreign affairs chief Federica Mogherini on Saturday called for the establishment of a Palestinian state, saying the world "cannot afford" another war in Gaza.
"We need a Palestinian state — that is the ultimate goal and this is the position of all the European Union," Mogherini said during her first visit to Gaza. dfp adslot
Hamas and Israel fought a 50-day war in July and August which resulted in the deaths of 2,140 Palestinians, at least half of them combatants according to Israel, and more than 70 Israelis, most of them soldiers.
Mogherini's visit came against a backdrop of surging Israeli-Palestinian tensions in East Jerusalem where there have been near-daily clashes in flashpoint neighborhoods, and two terror attacks that killed four Israelis in two weeks.
She voiced hope that Gaza would avoid another major conflict.

"It is not only the people of Gaza that can't afford having a fourth war, all the world cannot afford this," she said.
"We cannot just sit and wait. If we sit and wait it will go on for another 40 years. We have to have action now," said Mogherini, a former Italian foreign minister who recently took over from Catherine Ashton as the top EU diplomat.
Earlier Saturday, the Wall Street Journal reported that several European nations told US officials that they are seriously considering unilaterally recognizing Palestine as a state, as Sweden did last month, if peace talks between Israel and the Palestinians do not resume.
According to the report, these countries include some of the US's closest allies. The report did not specify which, however.
"We're not going to wait forever," a senior European official said, according to the report. "Other European countries are poised to follow Sweden."
On Friday, Mogherini said there was a real "urgency" to pick up and advance the moribund peace process. "The risk is that if we do not move forward on the political track, we will go back… again to violence," she told reporters during her first official visit to Jerusalem.
"That's why I see the urgency in moving forward," she said, adding that Israel's settlement activity was an "obstacle" to negotiations based on a two-state solution.
The Palestinians, for their part, are set to submit a draft resolution to the UN Security Council later this month calling for an Israeli withdrawal to the pre-1967 lines, a senior official said on Tuesday.
The text, which the Palestinians have been preparing for weeks, is expected to be vetoed by permanent member the United States.
But officials in Ramallah have said that will not deter them after round upon round of failed peace talks with Israel.
It is unclear how European states will vote.
"No other solution has been proposed by the United States" to achieve peace and the establishment of a Palestinian state, senior Palestine Liberation Organization official Wassel Abu Yusef told AFP.
Peace talks between Israel and the Palestinians collapsed spectacularly in late April after a nine-month, US-brokered effort. The two sides have traded blame for the failure while the US has, unofficially, largely placed the blame on continued settlement activity and on Prime Minister Benjamin Netanyahu.
Last month, Sweden officially recognized the State of Palestine, making it the first major European Union member state to back Ramallah's statehood bid in this way.
Also last month, London's Parliament voted to urge the British government to recognize a Palestinian state.
On Tuesday, French Socialist lawmakers were also preparing to submit a motion to parliament asking the government to recognize Palestine as a state.
The Palestinian Authority estimates that 134 countries have now recognized Palestine as a state, although the number is disputed and several recognitions by what are now European Union member states date to the Soviet era.
Last week, Mogherini called for the creation of a Palestinian state within the five years of her term, and announced that the EU intends to play a more influential role in the Middle East than it has in the past.
"What's important for me is not whether other countries, be they European or not, recognize Palestine," she told the European press. "I'd be happy if, during my mandate, the Palestinian state existed."
AFP contributed to this report.

Read more: 'We need a Palestinian state,' new EU foreign affairs chief says in Gaza | The Times of Israel http://www.timesofisrael.com/we-need-a-palestinian-state-says-new-eu-foreign-affairs-chief/#ixzz3IUlzq0Fv

Follow us: @timesofisrael on Twitter | timesofisrael on Facebook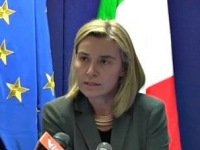 ABOUT THE AUTHOR
---

Administrator
READ MORE
SHARE YOUR OPINION, POST A COMMENT
---
Fill in the field below to share your opinion and post your comment.