Common Grounds
---
Opinion | Who Cares About a Child Killed in Gaza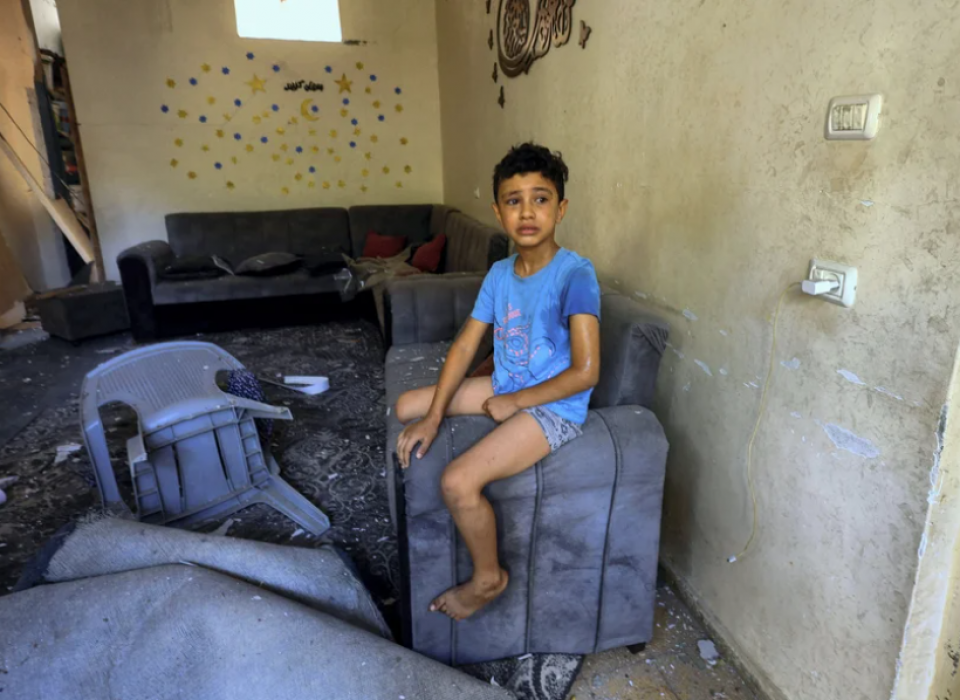 A Palestinian boy reacts at his family house damaged amid Israel-Gaza fighting, in the northern Gaza Strip, yesterday.Credit: MOHAMMED SALEM/ REUTERS
Shireen and Jenin, month-old babies from Gaza, were lightly wounded in the attacks there. Both were photographed swaddled in white baby clothes, large pacifiers in their mouths, their birth certificates on the pillow next to each, and their chests covered with an oversized shirt, bearing the image of slain journalist Shireen Abu Akleh. "With you from occupied Palestine from the heart of Shireen Abu Akleh," reads the inscription underneath. Another photo shows a sobbing baby with glass shards by its face. The caption reads: "The Israeli target bank in Gaza."

The twitter account titled "Gaza Now," in which these images appear, also uploaded a picture of a kitten, staring in terror at broken glass, behind it, a destroyed building, and around it children taking pictures of the frightened creature on their cellphones.
إصابة الرضيعين التوأم شيرين وجنين خلال قصف الاحتلال لمنزل في رفح بجراح طفيفة، يذكر أن المواطن محمد ثابت أطلق على توأمه اسم جنين وشيرين عقب جريمة الاحتلال واغتيال الصحفية شيرين أبو عاقلة في مخيم جنين قبل عدة أشهر . pic.twitter.com/GjuLxxRh9r

— غزة الآن - Gaza Now (@GazaNownews) August 7, 2022
Someone probably thought, probably correctly, that the image of a kitten would shock and move readers more than those of injured adults, gutted homes, or children who can't find their parents. The same account also retweeted the call by the Ikram charity organization for donations to help restore the destroyed homes. The goal, it says, is $100,000. At the time of this writing, only $8,863 had been donated by 164 donors.
At the popular twitter feed "Gaza Under Attack," commenters are furious at the hypocrisy of Western countries. "This isn't Ukraine. This is Gaza. Do you even care?" asks one, followed by photos of four terrified Ukrainian girls, and beneath them two girls from Gaza. "These are the children of Gaza whose bombardment the U.S. hails," the caption reads.
A cartoon portrays Western media as a fat man in a recliner, cigar in his mouth, looking with boredom at images of the war in Gaza — but when images of the war in Ukraine appear, he charges the TV set as though intent on breaking it. Further down the feed are video clips of a father holding his slain son to his bosom, surrounded by dozens of children and youths, trying to reach the child for a final kiss.
Tweet

غزة الآن - Gaza Now

@GazaNownews

بنك الأهداف الإسرائيلي في غزة .... "أطفال فلسطين وهُم نائمون"
There is no way to tell from these clips whether the child was killed by an Israel Defense Forces strike, or by what the IDF describes as a failed rocket launch from Gaza. A workplace accident. But who cares if the child was killed. What matters is who isn't to blame.
All the women and children killed, the elderly left without shelter, perhaps not for the first time, and the helpless parents all have one collective moniker: Collateral damage. Collateral damage has no importance, no meaning, and no value.

It is not a precious deposit in the target bank, nor a "senior operative," whose elimination ensures the collapse of the (militia's) infrastructure. You can't brandish it, or show it in a victory photo. It was hurt because it was there, instead of hiding in a shelter or moving to a safer place, maybe some amusement park, or the home of relatives. Just kidding. Gaza has no shelter and there's nowhere to run to. And who would give them a permit to go to the safe and quiet West Bank, or Italy?

Palestinians inspect their house which was hit by an Israeli airstrike in Gaza City, this week.Credit: Fatima Shbair/AP
Over two million residents of Gaza are potential "Collateral Damage," which has become synonymous with "non-combatants." What matters is that they not be defined as human beings, housewives, cancer patients, pregnant women, or any other noun that may arouse empathy, or God forbid, sympathy. Yet there is a great difference between the two terms. Collateral damage can be a soft drink factory, a residential building, a hardware warehouse, and also people.

There is something soothing about the exceedingly vague term, as opposed to "non-combatants," which refers directly to people, and it is therefore best not to use it. For there are no non-combatants in Gaza. They are all trapped in the same cage built by Israel 17 years ago. They all need the services of Hamas, or Islamic Jihad.
Tweet
غزة الآن - Gaza Now

@GazaNownews

حتى القطط لم تسلم
لم يسلم أحد من عدوان الاحتلال الإسرائيلي على غزة , هنا حياتك في خطر نتيجة القصف الإسرائيلي العشوائي , لم يتوقف الأمر على استهداف الأطفال والنساء فقط
https://twitter.com/i/status/1556106173803368448
Anyone who wants a work permit, a permit to travel to Egypt, to a hospital in the West Bank, to a university outside the Gaza Strip, must go through Hamas offices before seeking the Israeli approval. Every such person is a "combatant." Even those whose home was destroyed and want help restoring it, those whose children were killed or wounded in IDF attacks, those who lost more distant kin, are "combatants."


The children photographing the kitten, the babies Shireen and Jenin, those accompanying the bereaved father, the disabled and the post-traumatic – are all "combatants." Every harm to a "non-combatant" widens the circle of "combatants" several times over. Best call them "collateral damage." Cold statistical numbers, no names, no photos, and most of all – no guilt, no divisions, and no international investigations.
Tweet
Taherahmede

@Taherahmede1


Sad reality
#غزة_تحت_القصف
#مقاطعه_المنتجات_الفرنسية649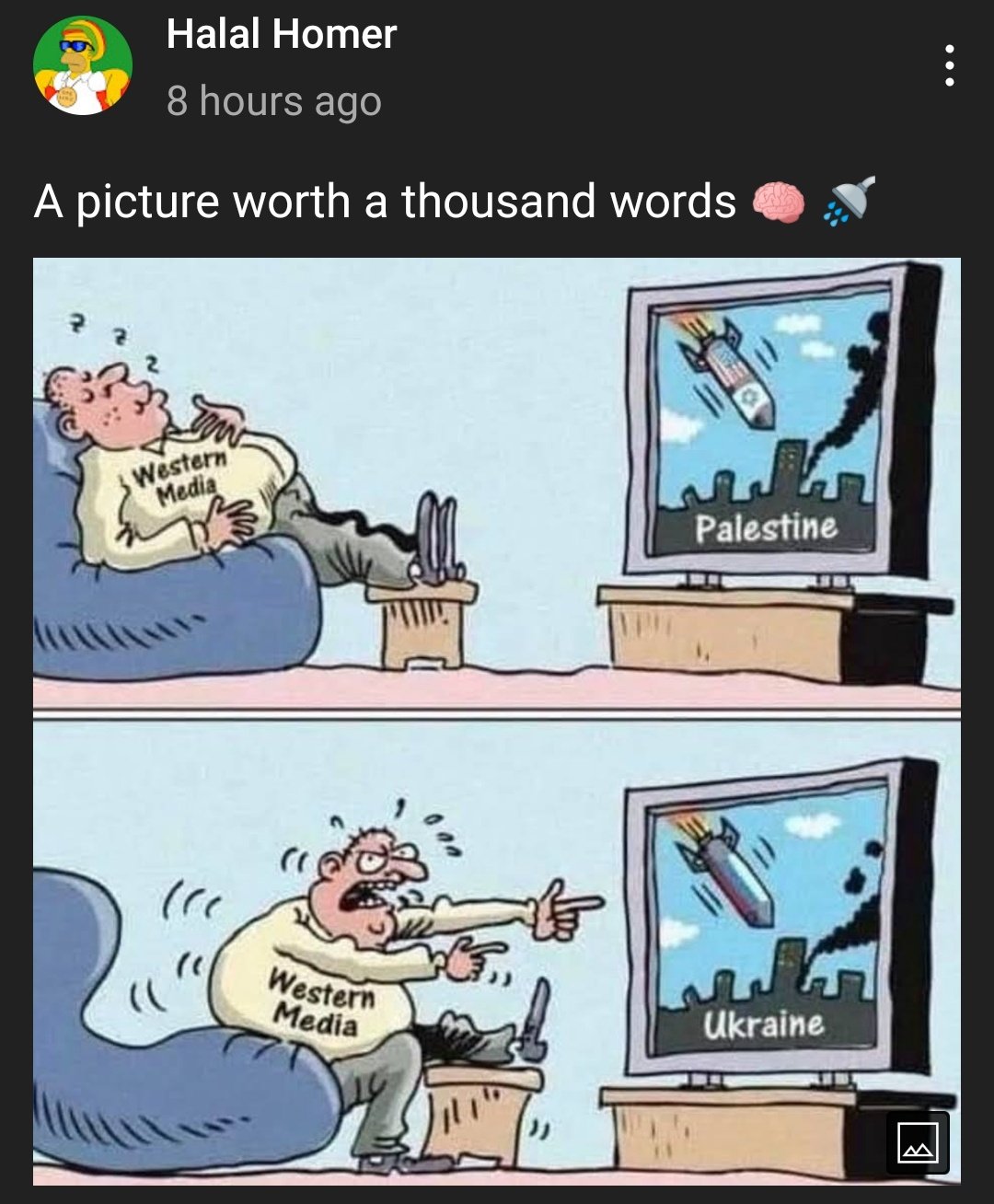 It is enough to look at the list of casualties published on Wikipedia following the 2014 round of fighting in Gaza, to understand the preferability of the term "collateral damage" to "non-combatants." According to the Gazan health ministry, some 80 percent of those killed were civilians.

The IDF determined that only 40-50 percent of those killed were civilians. Channel 2 news (supposedly a qualified source) set the figure at 36 percent, and the joint figure of the IDF and the Foreign Affairs Ministry ranges from 36-56 percent. When this figure was published in June 2015, some 20 percent of those killed (428 of 2,125 fatalities) were unidentified. This is all so needless and harmful. They're all just collateral damage – that's all.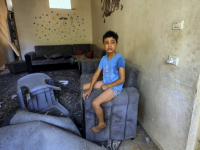 ABOUT THE AUTHOR
---

Webmaster
READ MORE
SHARE YOUR OPINION, POST A COMMENT
---
Fill in the field below to share your opinion and post your comment.