Common Grounds
---
Abu Akleh's brother slams police 'brutal force' at funeral, expresses hope for peace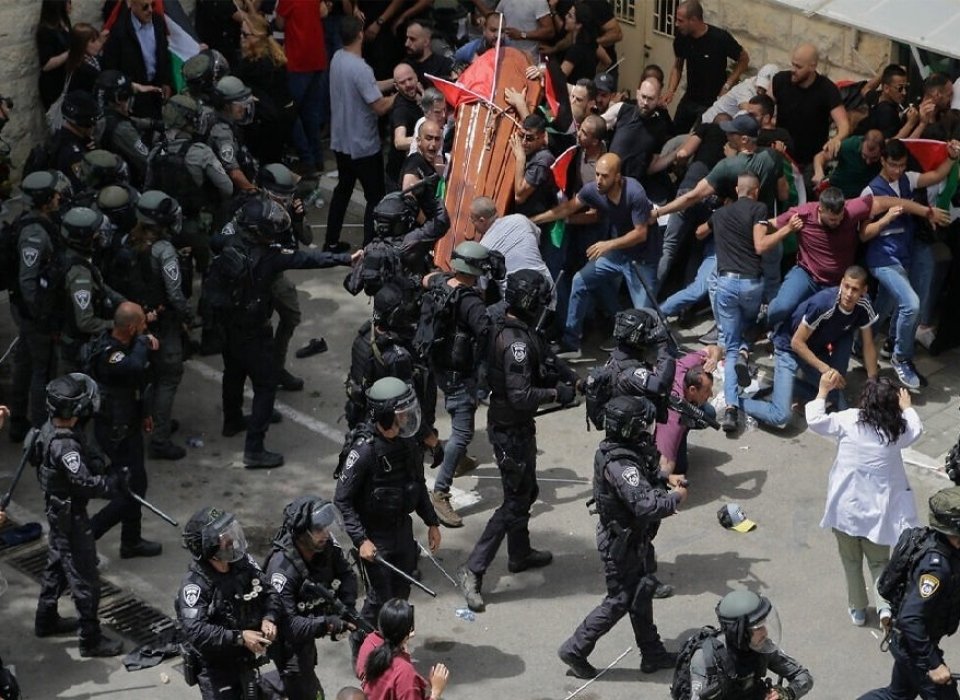 Israeli police confront mourners as they carry the casket of slain Al Jazeera journalist Shireen Abu Akleh, almost toplling it, during her funeral in Jerusalem, May 13, 2022. (AP Photo/Maya Levin)
The brother of Shireen Abu Akleh, the veteran Palestinian journalist shot dead under disputed circumstances in Jenin last week, slammed the Israeli police account of violence at her Friday funeral as "illogical and untrue" in an interview with The Times of Israel on Sunday.
Anton Abu Akleh — Shireen's sole sibling — also expressed his hope that the Al Jazeera correspondent's tragic death could be a "new opportunity" for peace between Israelis and Palestinians.
Shireen Abu Akleh, 51, who had worked Al Jazeera for more than two decades, was shot and killed while covering a firefight between Israeli soldiers and Palestinian gunmen in Jenin last Wednesday.
More than 10,000 Palestinians showed up to pay their respects to Abu Akleh during the long, tense funeral on Friday that wound across Jerusalem from Sheikh Jarrah to the Mount Zion cemetery. But the day was marred by scenes of police beating Palestinian mourners bearing her casket at the St. Joseph's Hospital.
In footage from the scene, Palestinians carried her casket forward in an attempt to form an impromptu procession on foot. After a brief standoff — during which some Palestinians hurled objects at police — officers rushed the crowd, beating mourners and firing stun grenades into the crowd. Under police attack, the pallbearers nearly dropped Abu Akleh's casket.
The violence sparked widespread international condemnation. In the aftermath, Israeli police said they had acted against "300 rioters" who had violently seized the coffin, attacked cops, and sought to march on foot to the Old City, in violation of the family's wishes.
Anton Abu Akleh, the brother of deceased Al Jazeera journalist Shireen Abu Akleh, speaks with media in the minutes before clashes erupt between Israeli police and Palestinian mourners on Friday, May 13, 2022 (screenshot: YouTube)

"Israeli police intervened to disperse the mob and prevent them from taking the coffin, so that the funeral could proceed as planned in accordance with the wishes of the family," the Israel Police said in a statement on Friday night.
But in a telephone interview on Sunday, Anton Abu Akleh described a different series of events and slammed the Israeli police for "extreme, vicious and brutal force" outside the hospital.
"Everyone who was there was there to mourn Shireen. What's this mob they're talking about? And even if there were one or two, how many police do you need to deal with it? The whole story here is illogical and untrue," he said.
Israel Police announced Saturday night that it would investigate officers' handling of the funeral.
Shireen Abu Akleh headed to Jenin early Wednesday morning to cover clashes between Israeli troops and Palestinian gunmen. She was shot in the head while wearing a press vest, with Israeli and Palestinian authorities initially providing different accounts of who fired the bullet that killed her.
Palestinian witnesses and officials said Israeli soldiers fired the fatal shot. Israeli officials at first said it was likely Palestinian gunmen had mistakenly shot her, but later acknowledged that errant Israeli fire could also have caused her death.
Palestinians hold posters displaying veteran Al Jazeera journalist Shireen Abu Akleh, who was shot dead during clashes between Israeli troops and Palestinian gunmen as she covered a raid in Jenin on May 11, 2022. (HAZEM BADER / AFP)

Her killing sparked widespread shock and mourning among Palestinians, for whom Abu Akleh was a familiar face. Abu Akleh began working for Al Jazeera in 1997 and rose to prominence during the violent years of the Second Intifada.
Anton, Shireen's older brother, who lives abroad and works for the United Nations Development Program, was summoned by Israeli police to a local station on Thursday night to discuss the upcoming funeral. He said the police asked where the family intended to hold the procession and demanded that mourners refrain from raising the Palestinian flag.
"We informed them of the arrangements we had made, the roads we planned on walking — from Jaffa Gate to Mount Zion. They demanded that we not raise the Palestinian flag or chant slogans," Abu Akleh said.
According to Abu Akleh, he never agreed to the conditions set by police. "I told them that I could not control such a funeral," he said Sunday. "This is a mass funeral for all Palestine."
"There was no agreement. I told them our arrangements and that was it," said Abu Akleh.
On Friday afternoon, when Palestinians carried Abu Akleh's casket from St. Joseph's Hospital, some chanted their intention to take her body on foot to the Old City, a little under two miles away. The Abu Akleh family had planned on taking her casket by hearse to the Old City church where final rites would be read over her body.
Israeli police confront mourners as they carry the casket of slain Al Jazeera veteran journalist Shireen Abu Akleh during her funeral in east Jerusalem, on May 13, 2022. (AP Photo/Maya Levin)

But Abu Akleh firmly denied that Palestinians had wrested the coffin from the family by force or attacked the hearse, as claimed in some media reports and by Israeli police.
Abu Akleh also expressed skepticism that the Palestinians bearing the coffin actually intended to carry her body on their shoulders all the way to the Old City on foot. The marchers would only have gone a short way, he suggested.
"It's true that they marched a little. But they marched so as to bear her body to the hearse. The hearse was waiting there to take the casket," Abu Akleh said.
"It would not even have been possible to march all the way from Saint Joseph's Hospital to Jaffa Gate on foot. It's a long, difficult walk, with all the people gathered there," he added.
Other witnesses disputed Anton Abu Akleh's explanation, however. According to foreign diplomat Sven Kuhn von Burgsdorff, who sought to mediate between police and mourners on the scene, the Palestinians insisted on carrying her to the Old City and prevented the hearse from approaching the hospital.
Shireen Abu Akleh, 51, a veteran Al Jazeera journalist who was shot and killed during clashes between IDF troops and Palestinian gunmen while covering an IDF raid in Jenin on Wednesday, May 11, 2022. (Courtesy)

After the mourners surged forward, a brief standoff took place. Abu Akleh said he told the Palestinian participants to take the casket to the hearse but the police responded quickly, "without asking questions."
In footage from the scene, Palestinians can be seen waving Palestinian flags and chanting in the face of police at the entrance to the hospital with the casket raised high. Officers pushed them back, striking them with batons, before moving back into formation.
About a minute later, after Palestinians threw several more objects at police, officers plunged into the crowd, beating funeral participants and firing sound grenades. Helmeted riot police wielding batons struck pallbearers holding Abu Akleh's casket, nearly toppling it to the ground.
"Whatever we had agreed upon, the way in which the police handled the situation as soon as the casket was taken out of the hospital was shameful. They used brutal, extreme force and even beat the pallbearers. It was simply unacceptable," said Abu Akleh.
"They should have given us the time to conduct her funeral without their interference," he added.
After the clashes ended, Abu Akleh's body was loaded into the hearse — whose windows had been broken by police, according to Anton — and taken under heavy police guard to the Old City church.
Palestinian mourners wave national flags as they escort the casket of slain Al-Jazeera journalist Shireen Abu Akleh, during her funeral procession near Jaffa Gate, in the Old City of Jerusalem, on May 13, 2022. (Ahmad GHARABLI / AFP)

"Because the police had put restrictions on the roads to prevent people from participating in the funeral, I was even late to the church," Anton said.
When news of Shireen Abu Akleh's death broke on Wednesday, Israel offered to conduct a joint investigation with the Palestinian Authority into the circumstances. The Palestinian Authority refused and said it would conduct its own investigation.
Other countries — such as the United States — have offered to help in the probe. On Saturday, Ramallah said it would open the investigation to the "participation" of "international parties," although it was not immediately clear what this might mean.
Abu Akleh similarly rejected Israeli calls for a joint investigation. Like many Palestinians, he firmly believes that Israeli soldiers are responsible for killing his sister.
"We support the involvement of any party in the investigation — except for the Israelis. If you're accused of a crime, it makes no sense that you would investigate it," Abu Akleh said.
Colleagues and friends react as the Palestinian flag-draped body of veteran Al-Jazeera journalist Shireen Abu Akleh is brought to the news channel's office in the West Bank city of Ramallah, May 11, 2022. (Abbas Momani/Pool via AP)

Asked if he had a message for the Israeli public, Abu Akleh said he hoped his sister's death could be an opportunity for Israelis and Palestinians to reach peace, "despite how bitter and painful it is for Palestinians and for everyone."
"I ask the Israeli people to see this as an opportunity for peace. The Palestinian people wants peace, aims for peace. This feeling should be shared," said Abu Akleh.
Abu Akleh blamed the Israeli right for the Israeli-Palestinian impasse, saying that it had become increasingly extreme.
"I hope the Israelis change how they view the Palestinian people. We, the Palestinians, also want peace. We want to live in peace," Abu Akleh said.
"I wish for this to be a new beginning of a new age in our country and in the Middle East."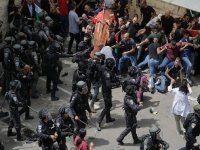 ABOUT THE AUTHOR
---

Webmaster
READ MORE
SHARE YOUR OPINION, POST A COMMENT
---
Fill in the field below to share your opinion and post your comment.