Common Grounds
---
Opinion | Can Israel Preach to Russia About Occupation and War Crimes?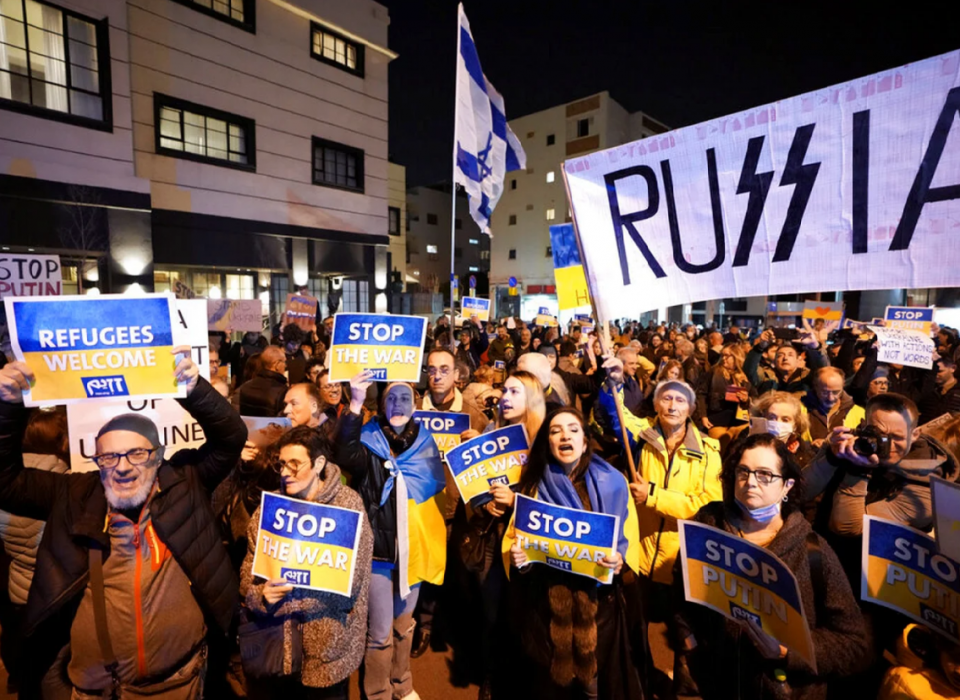 Protesters outside the Russian Embassy in Tel Aviv, earlier this year.Credit: Ariel Schalit/AP
Sometimes, the party's over, even when it seems it could go on forever. The same goes for Israel, which has brought the art of juggling to heights never seen before. It dances not only at two weddings – but at all of them – at the same time, while managing not to fall, until it does.

This is how Israel has been dancing the democracy and free world dance for decades, with the existence of a brutal military dictatorship in its backyard. This is how it has juggled for the past few months between Russia and the United States. Now it turns out that it is impossible to have the best of both worlds forever. Sometimes the party's over – and maybe it's better that way.

True, the United States would have put up with anything from Israel, but not Russia. Washington forgives Israel over everything, even turning its back on the West during a time of crisis. All the spit that Israel hurls at the requests from the United States is received in Washington as blessed rain. As far as the United States is concerned, Israel's mutterings and its fence-sitting in the face of the war in Ukraine were not worthy of a raised eyebrow. Europe forgave, too – but then Mr. International Morality, Yair Lapid, stood up. As foreign minister, he made other noises – which sounded more pleasant to the Americans. Russia woke up, how couldn't it, and now Jerusalem fears its fury.
Russia's threats actually sound like promises. Closing down the Jewish Agency for Israel in Russia and an end to the bombing attacks in Syria could very well emerge as positive developments, even for Israel. Everything has already been said about closing the Jewish Agency: enough with the subversion and encouraging unnecessary immigration. However, the unconstrained bombings in Syria, as if it were a vassal state under Israeli sovereignty, also could end very badly.
When Hezbollah sends a balloon, Israel screams to the entire world over the violation of its holy sovereignty. Yet no one dare open their mouths in light of the chutzpah of the bombings in Syria and the arrogance of the flights in the skies over Lebanon. Maybe Russia will put an end to this. It won't necessarily harm Israel's security, as fearmongers claim, because these attacks could someday lead to a response. That could lead to a deterioration whose end is hard to see. If Russia insists on closing Syrian skies, the world's finest pilots will be a bit less busy, to their regret, but Israel will be a safer place.

Now there are those who are calling on Israel to take a more moral policy line in its attitude toward the war in Ukraine, after we have already lost Russia, it seems. This too is a problematic call. Does Israel have the right to preach morality to another country that disrespects international law and ignores the calls from the international community? Is Israel allowed to even open its mouth against war crimes and acts of occupation? With what moral authority?
Is Israel allowed to participate in sanctions against an occupying nation at a time when it – an occupier itself – describes every such call for sanctions against it as antisemitism? After all, Lapid, who changed the attitude concerning the war in Ukraine, is one of the adherents of the doctrine that Israel can do anything and other nations may not criticize it, because any such intervention is Jew hatred. Will he now preach to Russia? About what? About the occupation and war crimes?


We are now standing on the precipice, and this must make us think. Israel has tried to benefit from all worlds and has managed to lose almost all of them. Ukraine and Russia are furious at Israel to the same extent. While Europe and the United States have shown their best side, Israel has stood aside. And Russia, which hoped that Israel would reward it for the open skies in Syria and the freedom of the Jewish Agency to stir things up in Russia, has suffered a disappointment.

But Russia still has one consolation: Israel, the darling of the West, is much more similar in its actions to Russia than to its admirers in the West. Russia is stronger and more brutal, and Vladimir Putin is more dictatorial, but Israel knew very well why it did not come out against Russia – it is almost its twin sister.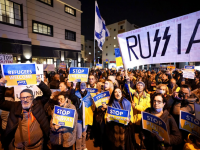 ABOUT THE AUTHOR
---

Webmaster
READ MORE
SHARE YOUR OPINION, POST A COMMENT
---
Fill in the field below to share your opinion and post your comment.